UPDATE:
IBC will take place in a circle of 15 mostly German speaking participants in a big seminar house that allows us to respect each other's needs and safety regulations concerning COVID-19.
We are still accepting applications from Germany and other European countries. In this case, please contact us via mail.

If you want to receive an email with dates and information for the Impulse Boost Camp 2021, type in your email-address here.
Our international replicator training Impulse Boost Camp (IBC) is one of our core projects. Each summer ifzw impulsstiftung invites 20 young social activists from Europe and its neighbouring countries to Saxony. Together we reflect upon how to contribute efficiently to society, share methods that make project work more fun and expand our leadership skills. It is not only an eye-opening experience, but a seminar that brings voluntary work to another level.
The next Impulse Boost Camp will take place from 1 to 9 October, 2020.
New methods for a new world.
The world is changing: Everything is complex, fast-paced, globalized and inter-connected. Our world needs people that are not only aware of today's social challenges, but contribute actively to their communities.
Impulse Boost Camp is an international training for young social and political activists that work on a voluntary basis for something they care about. During our 9-day long retreat like programme you will find out how to contribute with more impact and at ease. Our "Think & Do Tank" offers the opportunity to acquire relevant skills and approaches of the modern working world of social change makers. During IBC we will try out project management tools, methods for team organisation and communication and reflect upon our personal and organisational development. In addition, we provide an international network with plentiful opportunities. Non-formal methods – such as those of the Art of Hosting framework – with an innovative and interdisciplinary character will be selected for this purpose.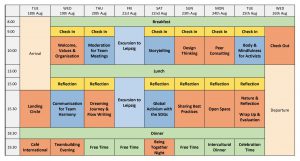 The seminar will be shaped by the active participation of each fellow, so we can share our stories and learn from one another. After the seminar you have the chance to pass on your freshly gained knowledge to your peers at home. IBC will provide tools and methods for this purpose.
We will live in a seminar house in the German Ore Mountains where we have our own food crew that will cook ecologically, locally and according to our needs.
"An amazing mix of input, reflexion, inspiration, time for exchange, practice and discussion."
"A super appreciative, curious atmosphere."
"Beautifully hearted people that openly shared their stories!"
"Well-organised and useful workshops with inspiring speakers."
Eligible Countries
EU countries, Schengen countries, Morocco, Algeria, Tunisia, Libya, Egypt, Israel, Palestine, Lebanon, Jordan, Syria, Turkey, Georgia, Ukraine, Belarus, Russia, Albania, Bosnia and Herzegovina, Kosovo, Macedonia, UK
Requirements for Participants
Good English level (minimum B2)
Experiences in voluntary work, e.g. through social or political activism (please do

not

apply if this requirement does not match your profile)
Sensitivity for global and interpersonal power structures, own privileges and different forms of discrimination
Motivation to learn and share your own experiences and knowledge
Motivation to actively contribute to the seminar
Ideally leadership position in an organisation or project
Commitment to filling out the evaluation forms after the seminar
What will you get out of the seminar?
Learn new effective methods for working in groups
Get to know other international projects and working methods
Boost your soft skills for idea development, storytelling and harvesting conversations
Personal reflection on both your personal and professional life
Learn how to avoid or solve communication problems
Strengthen your multiplier role in your community through organising an IBC implementation workshop at home
Missed the deadline? Stay tuned for next time here.
Our Staff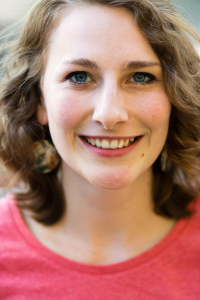 Marie Nele Wolfram is a trainer for social activism and political participation. She was elected as a member of the city council of Plauen in 2014 and has been active in work against right-wing extremism and populism for many years. She started the political campaign Informationen für Deutschland and founded a social charity network in Dresden. Nele studied International Relations and has lived in the USA, France, Burundi and Tunisia until she moved to Berlin where she trained diplomats from all over the world at the German Federal Foreign Office. Since 2019 she works as a digital nomad, hosting self-empowerment workshops around the world and serving as project leader and host of Impulse Boost Camp.
Nele prefers to be addressed by her second name, which is pronounced Nila.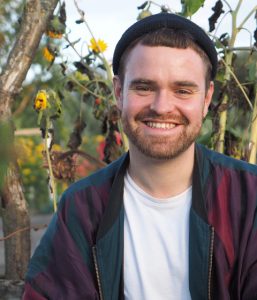 Nikolai Christian Alber is a trainer for political- and media education, teambuilding – and teamdevelopment. He studied pollical science at 'Freie Universtät Berlin followed by a Master (MA) in and social- and cultural anthropology at Humboldt Universität zu Berlin. Since 2016 he works for the welfare-association Arbeiterwohlfahrt Landesverband Berlin and trains and accompanies young adults through their year of social service. Besides that he works as a freelance trainer for different companies and institutions such as Planpolitik GBR, Deutscher Gewerkschaftsbund (DGB), Netzwerk für Demokratie und Courage (NDC) or the Heinrich-Böll-Foundation. Besides his political engagement he works as an artist within his own music-project Nïer. Nikolai, formerly from southern Germany, has lived in Hungary and Kenya and now settled down in wonderful Berlin.
Questions?
Don't hesitate to contact IBC's project manager Nele in case you have any questions or want to learn more about the project.
Contact Nele or Find out more about past IBCs
Partner